The Double J Ranch
and timber farm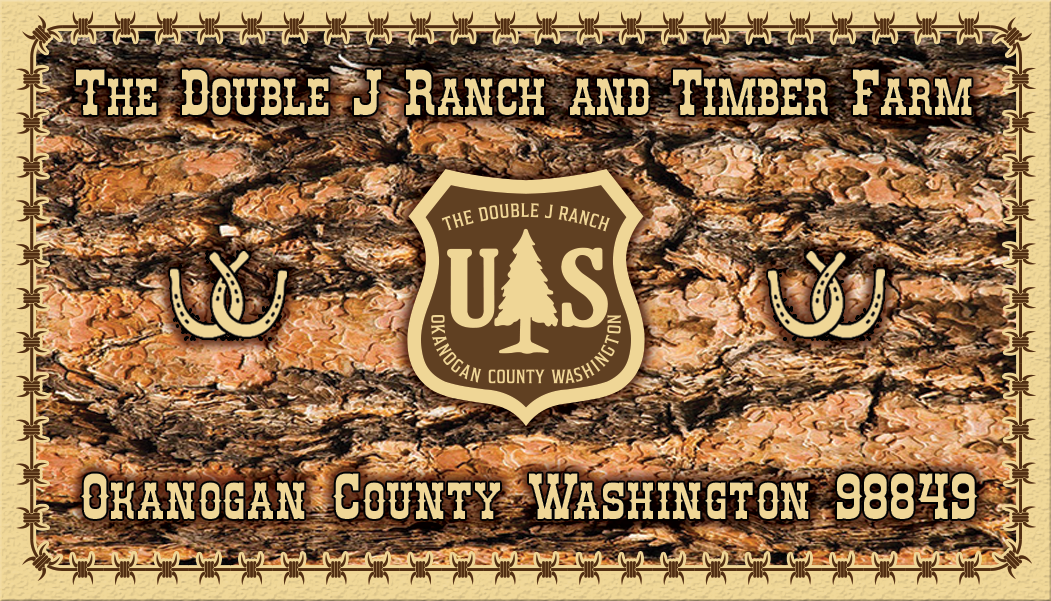 Located in beautiful Okanogan County Washington
The Double J Ranch T shirt offer has expired. If demand is high, I will run another batch.
We are a small timber farm consisting of a little over 40 acres. We are classified as a timber farm in the eyes of the State of Washington. Our land is heavily forested. It consist mainly of Ponderosa Pines being the majority/dominant tree followed by Douglas Fir at a ratio of roughly 50:1. I have found no other species to date.
The ground cover is mainly pine grass that is green in the spring, turning yellow in early summer. We have lots of blue lupine, red columbine, indian paintbrush and yellow wildflowers showing up in the spring also.
The region does have Tamarack (Western Larch) and Aspens. As you go higher in elevation in the area, the Ponderosas give way to lodge pole pines, the fir gives way to the Engelmann Spruce tree. Tamarack seems to like both elevations. Wetter areas will house the aspens. This is usually in draws or along side any creek or water leeching out a hillside. We have no water features on the ranch at all.
We are located at 3450 feet in elevation at the lowest point in the south west corner and the highest point is 3600 feet in the north east corner.
In addition to supplying the region with "wood fiber", we are also providing the area with habitat for wildlife. We enjoy the wildlife in the region.
We are home to many wild animals, including grizzly bear (the chances of seeing a grizzly is slim to none), black bear, moose, white tail deer, mule deer, gray wolves (wolves so far have also been elusive, but are in the area now), wild turkey, bobcat, cougar, coyote, blue and ruffed grouse, snowshoe hare and a host of smaller animals and birds such as chipmunks, squirrels, bats, quail, hawks, pileated and hairy woodpeckers, red napped sap suckers, great horned, long eared, barred and great gray owls in the trees.
We have always enjoyed the theme and color schemes of the USFS, state parks, we built the area up on that theme and incorporated their colors shapes and styles into our designs. But this is not public land, it is private land and is an actual working timber farm. We may incorporate some livestock in the future. But right now, our primary product is wood fiber. Its very well marked all around with no trespassing signs. Please respect those signs.
Forestry/Timber Related Links

Woodland Industry Links
[USFS]
[Okanogan-Wenatchee National Forest]
[Sheldon Hill Forestry Supply]
[Woods Logging and Industrial Supply]
[Comstock Logging Supply Inc.]
Tractors
[John Deere] [Case/IH] [Caterpillar] [Massey Ferguson] [Kubota] [Agro] [Cabelas] [Kioti] [Mahindra] [Branson] [New Holland]
[Lehmans] [Fleet Farm] [FarmTek] [Blains Farm and Fleet] [Agri Supply] [Nasco] [Farming Supplies Direct] [QC Supply] [Pole Barns][Fleming] [Orscheln] [IMP Corp.]
Park/Forest Service Theme Items
Trailer and Towing Accessories and Other Resources
[Southwest Wheel]
[
Pit Pal
] [
RB Components
] [
Champion Trailer
] [
eTrailer
] [
Trailer Parts For Less
] [
Hitches
] [
Low Cost Trailer Parts
] [Valley
Trailer Hitch] [
Hitch Corner
] [
Trailer Parts Depot
] [
Trailer Parts Superstore
] [
Camping World
] [
PPL Motorhomes
] [
Bens Discount Supply
] [
Pit Posse
] [
Moduline
] [
Blazin Bell Tech
] [
Pit Products
] [
Redline Trailer Repair Parts
] [
Rock Auto Parts
] [
Trailer Tire
] [
KMT TRailer Parts
] [
Tekonsha
] [
Shadow Trailers/Parts
] [
Cummins Forum
] [
Dodge Talk
] [
Diesel Truck Resource
] [
Mopar Parts
] [
Parts Geek
] [
VIN Checker
] [
Trailer Parts
] [
US Cargo Control
]
Ham Radio Links
[
ARRL
] [
QRZ
] [
eHam
] [
eQSL
] [
AES
] [
HRO
] [
UR
] [
Assoc Radio
] [
QRZCQ
] [
License Generator
] [
Klock It
] [
Cheap QSL's
] [
Grid Locator
] [
Zulu Time
] [
Frequency Wavelength Converter
]
Amateur Radio Mfg and Related Links
[
Yaesu
] [
Icom
] [
Kenwood
] [
Ten Tec
] [
Alinco
] [
W5YI
] [
HR Forum.net
] [
HR Forum.com
] [
Repeater Book
] [
Ham Exam
] [
Gordon West School
] [
Power Werx
] [
ARS
] [
ABR Ind
] [
Ham City
] [
Ham Test Online
] [
Astrids Embroidery
] [
Grumpys
] [
American Towers
][
Palco Electronics
] [
Ham City
] [
GigaParts
] [
American Radio Supply
] [
MFJ
] [
DX Engineering
] [
Radiogram
] [
eQSL
] [
LoTW
] [
DX Summit
] [
DX Maps
] [
Universal Radio
] [
Rubber Stamps
] [
QSO Parties
] [
RF Calculator
] [
Glen Martin Towers
] [
Antenna Farm
][
Radio Merit Badges
] [
Ham Crazy
] [
The Sign Man
] [
QSO Party
] [
Amatuer Radio Supply
]
[
1st Area
] [
2nd Area
] [
3rd Area
] [
4th Area prefix 2
] [
4th Area 1 prefix
] [
5th Area
] [
6th Area
] [
7th Area
] [
8th Area
] [
9th Area
] [
10th Area
] [
IARU QSL Bureau
] [
HRD Log
]
Local Area (W/WA) Clubs and Oranizations
[CPRG] [OARS] [MCARC] [NMCARC] [Mike and Key] [Ham Depot WA] [CVARS] [CPR 145.470] [WARTS] [Mapability] [Clark County ARC] [W7ORC]
Misc Links
[Power Shop] [Wise Sales] [Bolt Depot] [uShip] [Conversion Calculator] [% calculator] [Spring Rate Calculator] [Tractor Supply][Mills Fleet Farm] [Grainger] [McMaster-Carr] [Industrial Supply] [Fastenal] [Wholesale Tool Co] [Small Parts] [Sears Parts Central] [Northern Tool] [Jacks Small Engines] [Auto Tools Now] [Discount Tool Mall] [Bell Appliance Parts] [Appliance Parts Pro] [sales@accessbearings.com] [Logo Work/Sports Wear] [Rivers Edge] [Water Mark Studios] [Sticker Guy] [Signature Patches] [Buck Wholesale] [Whistle Workwear] [Carhartt] [Solar Well] [Grainger] [Low Voltz] [Johnies Seeds] [email]